BOOSTER Elite
or make 4 interest-free payments of $50.25 AUD fortnightly with
More info
KEY FEATURES


Proprietary brushless commercial-grade motor with SmoothDrive Technology™


4800mAh battery with operating power up to 24 hours and precise battery indicator display

Smart Percussive Therapy™ with pressure sensor control system

OLED screen with pressure monitor

Customizable speed range (1250-3200 PPMs)

Delivers up to 23kg of no-stall force


Industry-leading, Australian-based 24 month local warranty

How Booster Elite Compares with Leading Massager Model
BOOSTER Elite
Theragun Pro
Hydragun
Price:
A$299
A$899
A$399
Strength:
Extremely strong
3200 PPM max. speed
16mm amplitude
30kg stall force
Extremely strong
2400 PPM
16mm amplitude
27kg stall force
Strong
3200 PPM
12mm amplitude
13kg stall force
Range:
Very wide
1000-3200 PPM
7 settings
3x less
1750-2400 PPM
5 settings
Wide
1300-3200 PPM
6 settings
Battery Life:
Very long
4800mah battery capacity
Up to 24 hours of operating on lowest setting and 10.5 hours on highest setting
2.0 - 4.0x less
Two interchangeable 1200mah capacity batteries lasting 2.5 hours each, for up to 5 hours total
1.8x less
3200mah battery capacity
Up to 6 hours of operating on lowest setting
Noise Level:
Ergonomics:
Good
Slim, ergonomic 90° handle with comfortable, hygienic nanosilicone grip
Good
D-shaped handle with rotating arm
Good
Slim, ergonomic 99° handle with comfortable, hygienic nanosilicone grip
Weight:
Build Material:
ABS plastic
OLED Touchscreen fingerprint sensor, inbuilt pressure indication system, heat-dissipation protects motor and battery from overheating
Composite plastic
Composite plastic
Aerospace-grade aluminium
Attachments:
Carrying Case:
Warranty:
2 years for main device, 30 days for attachments, 90 days for batteries
1.5 years, covers all parts, worldwide
Shipping and Returns:
Free shipping
Buyer pays return shipping
Free shipping
Buyer pays return shipping
Free shipping
Free 30-day returns, no shipping or restocking fee

Experience the ultimate rejuvenation with the exclusive performance

The longest operating hours and premium battery life ensure superior therapeutic sessions.
It features a SmoothDrive pressure sensor technology and brushless bi-powered motor.
The all-new Booster Elite is equipped with unparalleled features which include a 7-speed gear shift, 16mm stroke depth, 23kg stall resistant, 4800mAH lithium battery, and 8 different massage heads.
Unrivalled battery life

We know how frustrating batteries seem to only last five minutes, that's why the BOOSTER Elite Massage Gun will last up to 24 hours on a single charge meaning that It's ready to go when you are!


The 4800MaH Large Capacity Samsung battery makes the BOOSTER Elite the longest lasting battery life massage gun on the market.
Powerful treatment

Equipped with advanced built-in pressure sensor technology that provides visual feedback through the OLED touch screen throughout your massage.
The Booster Elite ensures that you can accurately provide your body with only the best relaxing treatment.



Remarkably quiet

Leave your powerdrill behind.
Equipped with proprietary brushless and SmoothDrive Technology™ commercial-grade motor. The BOOSTER Elite delivers renowned power while being quieter than ever.


Our luxurious massagers are specifically designed to relieve stress, increase flexibility and soothe your muscles soreness once and for all.

The SmoothDrive pressure sensor technology heightens your senses, balances your body and soul, and leaves you feeling refreshed.
Tools that used by Physiotherapist and Chiropractor
The Booster Elite comes with a pressure sensor system so you can say goodbye to the traditional outdated massage devices and take your health to next level with our scientifically proved Booster Elite. 


The continuous use of state-of-the-art technology flushes away lactic acid and increases blood circulation. This not only benefits the muscles but also impacts your overall health and well-being.

We guarantee every purchase with our 30-day "Love it or Return it" guarantee. Buy it, try it, and if for whatever reason you don't like it, return it to us and get your money back. Easy peasy. No worriesy.
We pride ourselves in our hassle-free purchase experience


☑️ Automatically-registered 24-month warranty from purchase date
☑️ Free shipping to your doorstep (standard shipping)
☑️ Free returns with our 30-day money back guarantee
☑️ Daily customer support with quick response time
INTERCHANGEABLE MASSAGE HEADS
Impact level 5/10
Sphere Attachment
All purpose head perfect for overall use on large and small muscle groups.
Impact level 8/10
Pound Attachment
The Pound is designed for a powerful percussive massage and is best on larger muscle groups.
Impact level 6/10
Divide Attachment
Great for targeting all of the back, as well as forearms and calves.
Impact level 10/10
Bullet Attachment
Perfect for targeting deep tension points, including hands and feet.
Impact level 5/10
Wedge Attachment
Ideal for shoulder blades. Helps increase blood flow and reduces tension when you need it the most.
Impact level 4/10
Arch Attachment
The curved design is great for use on the back of calves.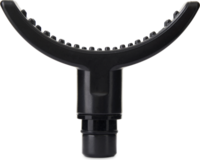 Impact level 3/10
Gyro Attachment
Ideal for soft tissues. Helps increase blood flow and reduces tension when you need it the most.
Impact level 1/10
Mushroom Attachment
The only soft attachments that can be used on top of bones, elbow or knee.
People often buy
Total price:
$250.00
$451.00